Teachers throughout South Florida came onboard R/V ANGARI for a full research and educational experience about ocean currents and drifter technology. 
Working with CARTHE and MetOcean Telematics, ANGARI Foundation hosted its first educator professional development program onboard R/V ANGARI. The program provided South Florida educators the opportunity to learn about ocean currents and drifter technology firsthand so that they could bring that knowledge back into their classrooms.
The day included an overview of ongoing research and drifter application to understand the movement of oil and marine debris by Dr. Tamay Özgökmen as well as a hands-on experience deploying a Surface Velocity Program (SVP) drifter buoy donated by MetOcean into the Gulf Stream. The program also included a discussion of drifter data access, available resources, and lesson ideas led by ANGARI's Director of Science Education & Advancement, Dr. Amanda Waite. Learn more about this expedition here.
CHIEF SCIENTIST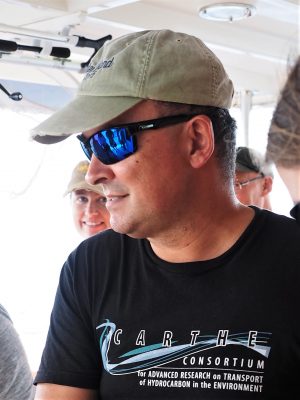 Dr. Tamay Özgökmen is the Director of the CARTHE Consortium and a Professor in the Department of Ocean Sciences at the University of Miami's Rosenstiel School of Marine and Atmospheric Science. He has authored more than 60 peer-reviewed publications on oceanic turbulence and transport. He is also the co-editor of a pioneering book on Lagrangian Ocean Transport.
Dr. Özgökmen has played a key role in several large multi-institutional research projects including The Climate Process Team on Gravity Current Entrainment, which was a major collaboration between university investigators and climate center researchers. Presently Dr. Özgökmen is a member of ONR's Lateral Mixing science team, and an investigator in ONR Multidisciplinary University Research Initiative on Dynamical systems theory in 4D geophysical fluid dynamics.