Crewed Submersibles for Scientific Exploration
Stockton Rush, Chief Executive Officer & Founder
OceanGate Inc.

Stockton Rush talks about developing the next generation of submersibles to make the deep ocean more accessible than ever before for human exploration.
Select Supplemental Content:
Educators- would you like to be kept up to date on ANGARI ocean science education content & programs like this? If so, please complete our Educator Registration form!
PRESENTER BIO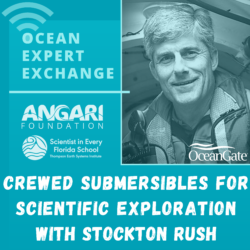 Stockton Rush was the Chief Executive Officer and Founder of OceanGate Inc. As CEO, Stockton was responsible for OceanGate's financial and engineering leadership, shaping the company's strategic direction with a vision focused on developing the next generation of manned submersible solutions for subsea operations in the commercial and defense sectors. Stockton was also a co-founder and member of the Board of Trustees of OceanGate Foundation, a non-profit organization whose aim is to catalyze emerging marine technology to further discoveries in marine science, history and archeology. Stockton earned a BSE in Aerospace Engineering from Princeton University and a MBA from the U.C. Berkeley Haas School of Business.
Ocean Expert Exchange is a live educational webinar series featuring experts in marine science and technology, many of whom have participated in expeditions onboard R/V ANGARI. The 30-minute live events welcome audiences of all ages and include a presentation on the speaker's area of expertise followed by Q&A with participants. The series is co-hosted by ANGARI Foundation and the University of Florida Thompson Earth Systems Institute's Scientist in Every Florida School program.