Engineering with Nature for Climate Adaptation
Dr. Kelly Kibler, Associate Professor
University of Central Florida
Dr. Kelly Kibler discusses how she applies ecohydraulics research to the design of natural coastal infrastructure, such as mangrove forests and oyster reefs.
Select Supplemental Content:
Educators- would you like to be kept up to date on ANGARI ocean science education content & programs like this? If so, please complete our Educator Registration form!
PRESENTER BIO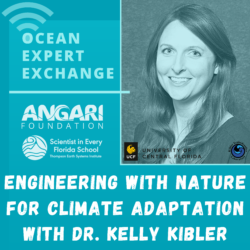 Dr. Kibler is an Associate Professor in the Department of Civil, Environmental and Construction Engineering, and National Center for Integrated Coastal Research at the University of Central Florida. She also serves as an Associate Editor for the Journal of Hydrology. Dr. Kibler's research focus is in ecohydraulics – at the crossroads of engineering and aquatic ecology. She studies physical-biological interactions in river and estuarine systems, in both natural waterways and those modified by dams, dredging, levies and hardened structures. Her research seeks water development pathways that minimize ecosystem damages and promote preservation or restoration of aquatic ecosystem services. Dr. Kibler earned her Ph.D. in Water Resources Engineering and M.Sc. in Forest Engineering – Hydrology from Oregon State University, and her B.Sc. in Environmental Science from the University of North Carolina at Chapel Hill.
Ocean Expert Exchange is a live educational webinar series featuring experts in marine science and technology, many of whom have participated in expeditions onboard R/V ANGARI. The 30-minute live events welcome audiences of all ages and include a presentation on the speaker's area of expertise followed by Q&A with participants. The series is co-hosted by ANGARI Foundation and the University of Florida Thompson Earth Systems Institute's Scientist in Every Florida School program.