Peter Chaibongsai, Director of Conservation Programs
The Billfish Foundation

Peter Chaibongsai discusses billfish and the research, including a global Tag and Release Program, being done to conserve them in support of ocean health and economies.
Select Supplemental Content:
Educators- would you like to be kept up to date on ANGARI ocean science education content & programs like this? If so, please complete our Educator Registration form!
PRESENTER BIO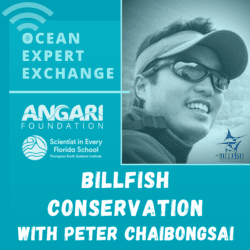 Peter Chaibongsai leads all of the Conservation Programs – Science, Policy, and Education – for The Billfish Foundation (TBF), a non-profit organization solely dedicated to the conservation of billfish populations worldwide. Peter oversees TBF's cornerstone Tag & Release Program, researches marine policy issues and assists in cultivating strategy with key conservation partners. He also developed and oversees TBF's volunteer/intern program and provides educational and outreach assistance at special events. Peter received his Bachelor of Arts in Marine Affairs and Policy with a concentration in Aquaculture and a Master's in Marine Affairs and Policy from the University of Miami.
Ocean Expert Exchange is a live educational webinar series featuring experts in marine science and technology, many of whom have participated in expeditions onboard R/V ANGARI. The 30-minute live events welcome audiences of all ages and include a presentation on the speaker's area of expertise followed by Q&A with participants. The series is co-hosted by ANGARI Foundation and the University of Florida Thompson Earth Systems Institute's Scientist in Every Florida School program.