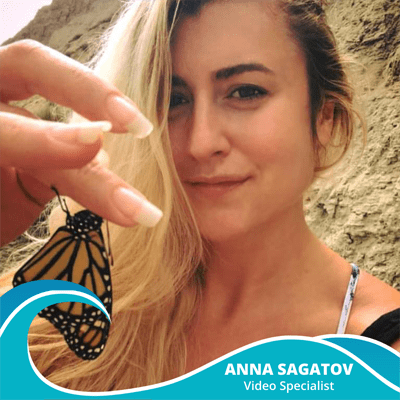 ANGARI Foundation welcomes new Video Specialist Anna Sagatov
West Palm Beach, FL (February 8, 2021) – ANGARI Foundation is pleased to announce that Anna Sagatov has joined the organization as a Video Specialist.
Anna is a science communicator and filmmaker. At ANGARI Foundation, she creates engaging video content that bridges the gap between scientists and the public. She manages the Foundation's YouTube Channel while also leading ANGARI's video content creation.
Anna's fascination with the ocean and science communication has been a through line throughout her life. She received her MFA in Science and Natural History Filmmaking from Montana State University, and her BA from College of the Atlantic in Human Ecology with a focus on the intersections of art and science. She is also a PADI certified divemaster and spent a season working and training in Thailand.
Anna is an award-winning filmmaker, and her films have appeared in festivals across the United States. Her work aims to encourage critical thinking and awaken curiosity and care for the natural world by revealing beauty in unexpected places. She has worked on film and television projects with the Discovery Channel, National Geographic, Travel Channel, Netflix, Hulu and Amazon Prime. She has also worked on independent films that have premiered at the Sundance Film Festival and South by Southwest.